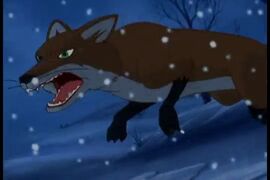 The Fox is a small wild wolf-like mammal that is known as elil to rabbits, rodents, and cats. They are often described as stinking (embleer) by the rabbits. The Lapine word for fox is "homba".
Book
[
]
A fox is notable for killing Mallow after Bigwig leads the carnivore away from Hazel and his group, unintentionally leading it to an Efrafa Wide Patrol.
Also, shortly after the Down rabbits and the Efrafan fugitives escape from Efrafa, the same fox ambushes them and snatches one of the does.
TV Series
[
]
In the television series, foxes appear as minor antagonists.
Miniseries
[
]
In this adaption, a fox is shown to have killed Woundwort's parents (rather than a weasel as in the original book and the TV series), as well as several of his fellow warren members and scattered the rest, before it scarred and blinded Woundwort's left eye with a swipe of its claws.
While crossing a field to get to Efrafa, Hazel and his group are stalked by a fox. Bigwig lures the fox away and accidentally leads it to an Efrafan Wide Patrol led by Captain Campion, resulting in the fox killing three members of the patrol.